Best Restaurant Mobile App a New Environment for Restaurant
23-08-2017
Appsmarche brings you Best Restaurant Mobile App a New Environment for Restaurant Business.
Recently, really effective stuff is going on a change in all areas of our life. If you consider changes, you find everything is going online, especially in the mobile world. The reasons behind all of these changes are, mobile apps are easy to use, you can increase sale, improve brand awareness and build a great mutual list of customers. It sounds very clever and useful for restaurant owners.
As promoting standards and patterns change, online turned into a great marketing environment for your Restaurant. Better approaches for promoting are here because people do not leave their smart phone for a minute– so you can simply hit your customers with notification on real time with a message! With the help of restaurant mobile app, you will easily get an entry in the competition. Read More about Retail Mobile App becoming More Popular among Retailers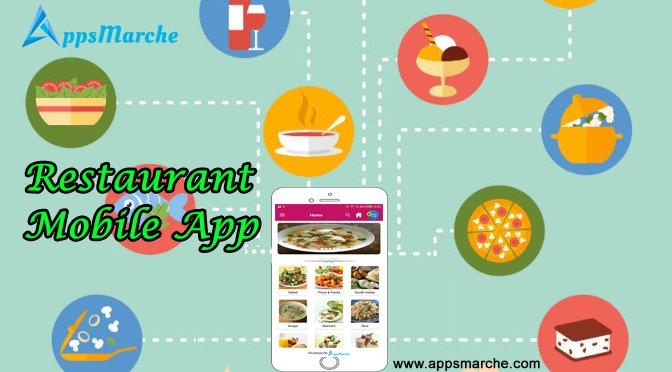 There is a number of ways how a Best Restaurant Mobile App can serve in your business. AppsMarche provides you a customized restaurant mobile app to manage and promote your restaurant business. By using this mobile app, you can manage all activities of your restaurant like manage menu, view customer list, feedback, update the new list of menu, announce new offers, and many more things anytime anywhere.
The user or customer have also a number of facilities like the customer can pre-book a table in restaurant, order food online, get home delivery of food, can pay online etc. Read More about Best Restaurant Mobile App by AppsMarche
As a restaurant owner, if you want to get AppsMarche Restaurant Mobile App for your restaurant you can visit our web site and follow some simple step like first you must register your business with all detail which is mention in the registration form and make payment. After payment, we will send you a confirmation mail on your register email id along with web dashboard credentials. We also provide you two mobile apps one for admin and one for customers. After 30 minutes of registration, we will upload your mobile app on playstore so customers can access your restaurant mobile app.
By using web dashboard you can manage all activities of the restaurant, promote your restaurant in the online market and increase the profit of your restaurant with great customer relations by restaurant mobile app. Read More about Make Restaurant Mobile App for your Business
Restaurant Business Mobile App can be used to offer services such as online booking, order management, delivery, take away to their customers.
AppsMarche Mobile App Builder is a customized mobile app platform which enables business users to build mobile app for their respective business domain such as retail, catering, real estate, restaurant, doctor, gym.