Best Retail Mobile App for Retailer to Increase Business
10-08-2017
In today's world, digital media plays very important role in our daily lives. More and more people are investing in mobile applications as compared to the websites. The mobile applications are a set of tools for business. Every day mobile application enters and exits in a business only a few apps can set their profit in the market. In today's world, mobile applications provide comfort to the people. People can also enjoy their shopping by sitting at their home.
The development of the mobile application is sometimes too expensive so one must also try to understand that the mobile application improves the customers' engagement as well as build customers base. Read More about Necessity of Retail Mobile App to your Business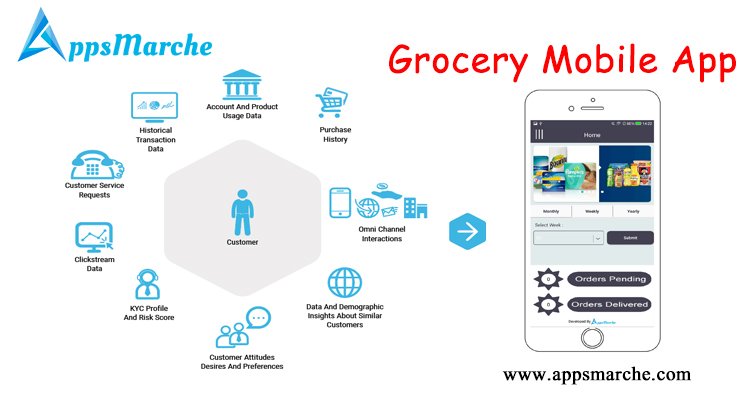 AppsMarche provides a platform to create customize the mobile app for your Retail business there you can create your own Retail Mobile App according to your business and customer need at very reasonable prices.
In today's world, there is an app for everything and anything there are many advantages of having mobile applications. Best Retail mobile app is a great Investment for the business but only if our planning and execution are set. One of the most important things is that have a knowledge and experience professionals that will be able to provide the best and fulfill all the requirement of business need. Appsmarche provides you a guide that explains you a proper execution of your retail mobile app. Read more about AppsMarche Customized Grocery Mobile App for Retailers
With the help of graceful Best Retail Mobile App for the Retailer to Increase Business and get the chance to reach more customer as comparing another retailer. The mobile application is not only a platform to advertise a business you can also create your own mobile application and have great features of payment.
The retail business mobile app is also very easy to use simply to check out and also no need bring laptop all time to every where only one single application can fulfill the needs of your business and you can also manage your business accepts. Which makes the very easy way to the owner also so that they can fulfill their customers demand on time. There are huge investments on mobile application and one of the surveys also found that the investment on the mobile application is increased in this year as compared to previous year.So investment in the mobile application will make your business growth higher.
AppsMarche Retail Management Mobile App enables retailers to be on growing mobile platform and can enhance their customer satisfaction.
AppsMarche Best App Builder is a customized mobile app platform which provides a platform to merchants to build mobile apps for their business.