Manage Catering Business by Catering Services Mobile App
24-05-2017
Now a day's everyone have a smart phone and many restaurant move to the online platform which provides an easy way to manage their business at anytime and anywhere. Online Caterers Mobile App is a system which provides end to end solution for caterers to manage their catering business with the help of one mobile application. This application makes the caterers to manage their business and also facilitate business owners with the help of mobile application from which they can serve their services like online delivery, can take order online, food for delivery, able to take online reservation at online platform and also able to move their business at online bazaar to maximize their business make more and more customers. Read More About Best Property Mobile App for Your Property Business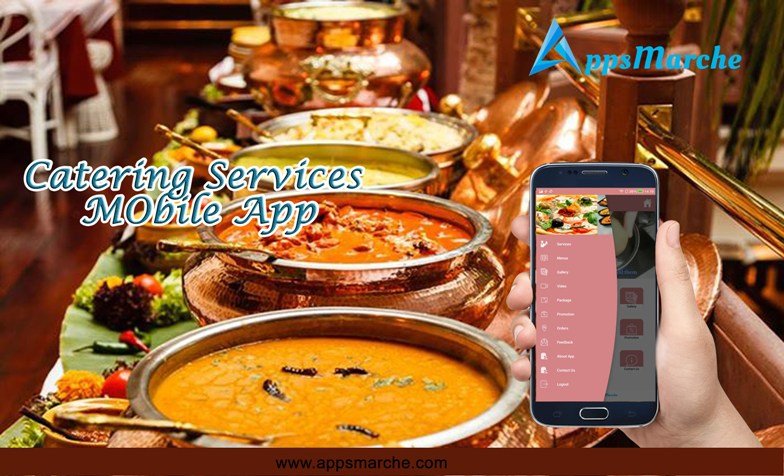 Catering Services Mobile App also notifies the caterers about the users order. This mobile application provides the easy way to add new product so that customers will attract by it. AppsMarch offer Catering Mobile App to the perfect solution for any operation. Our android developer has designed a catering system with a variety of tools and systems to help you grow and manage your catering profit center. Caterers Mobile App has an in-built powerful system for catering companies worldwide that ensures smooth functioning of your business processes to ease the management and grow business. Catering mobile application manages all the data in the database and handle each and every expects of your business from sales quotation and contracts, orders and invoicing. Catering mobile application specific features are more in depth, more powerful, more flexible, and when combine with the compressive capability of full event and venue management application. Catering application is the application that can grow your business as far as you want to take it. Read more about Catering Mobile App to Manage your Catering Business
With your catering business and eventually, other information as your business expend, will help in centralizing in one stream program. You can maximize the potential of our catering company. No need to struggle with limited platform for promoting your catering business when you can enjoy the benefits of working with appsmarche best app builder or promoting your business and provide an online platform for your business.
Best Catering Mobile App provides complete catering management system to caterers for managing their Catering Business in better and efficient manner.
AppsMarche Mobile App Builder enables business users to build mobile app for their respective business domain such as retail, catering, real estate, restaurant, doctor, gym.