How Best Restaurant Mobile App Increase Customers
16-09-2016
Restaurant business is a place where a service provider/owner of the restaurant provides services like food and beverages to the customer as per their taste and efforts but due to the revolution in mobile marketing a new form of marketing comes named digital marketing. Now a customer visits the website of restaurants over the internet to view their reviews/feedbacks about their service, food quality, advantages and offers before going the restaurants. This increases the owner's issues, how they attract their customers toward their business and how the name of their restaurant business solution becomes a brand. Read more about Restaurant Mobile App is a Smart Business Solution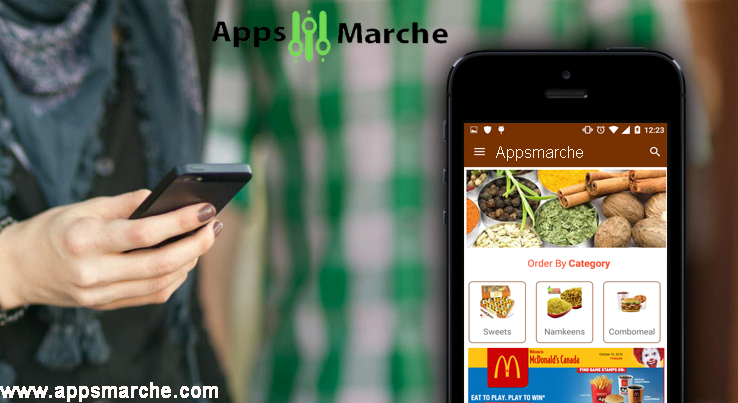 So now with quality of product you have to move on towards digital marketing. Restaurant branding by their quality and chef is older thinking; now in this fastest moving world you must have a digitally advanced and customized mobile app on online apps market of best app builder, because in this age without an extensive mobile app you failed to provide availability and a better reachability to your customer, which are the major aspects in branding your restaurant business management. Each day competition is increasing, and the requirement and expectation of the customer getting higher day by day. The major problem with the restaurant is design and management of menu because a good menu has a balancing act.
Today branding is all about your customer satisfaction and this could only be happen when you have a platform which helps you to express your restaurant and the first step to brand a business to development and design. The Appsmarche is a platform where app builders provide you perfect fully customized restaurant management mobile app business solution for you and for your customer both who helps you to fulfill all requirements and need of your customer that helps in branding your business solution. This Platform provides you a digital application which helps you to make a good name, logo, packaging design and brand identity and anything else you requires is the integral and important part of your restaurant business image and you can advertise your business yourself using promotional offer menu. The app builder provides excellent facility across the business world and the developed an app for you is different from others because this app covers all your needs and expectations. Read more about Benefits of Catering Mobile App
There are some advantages of the restaurant mobile app business solution which provides you detail description about How Restaurant Management App makes you a Brand and How Best Restaurant Mobile App Increase Customers
The Appsmarche platform provides you a digital marketing mobile for customer as well as desktop based managing app for you that help you to create your business image which differs you from other.

From this application restaurants can provide services like online reservation, online delivery, and take order online, food for delivery through mobile application.

Appsmarche Best restaurant mobile app for Admin facilitates business owners to handle their mobile applications from which they can serve their services like online delivery, take order online, food for delivery, online reservation at online platform.

Appsmarche best restaurant mobile app facilitates customers to avail services like order online, online delivery, online reservations, take order online, food for delivery etc. of their favorite restaurant.
Restaurant App Builder can be used to offer services such as online booking, order management, delivery, take away to their customers.
AppsMarche Mobile App Builder enables business users to build mobile app for their respective business domain such as retail, catering, real estate, restaurant, doctor, gym.