Why Using Fitness Mobile App is Beneficial for Gym Owners
14-11-2016
AppsMarche brings you Why Using Fitness Mobile App is Beneficial for Gym Owners.
Let's just clear the air about this blog; having a mobile app for any business can of course help you get more customers, increase your name and brand. Be it any business solution, an application plays a vital role from business growth perspective. AppsMarche brings you the ultimate fitness mobile app that will help you to grow your business, get more appointments, and increase revenues. From many small businesses to elite classes, a mobile app is a great new way to connect with customers and open new marketing channels. A fitness mobile app as a mobile app offers a bunch of great features to boost business cost-effectively. Read more about Best Wedding Mobile App to Plan a Perfect Wedding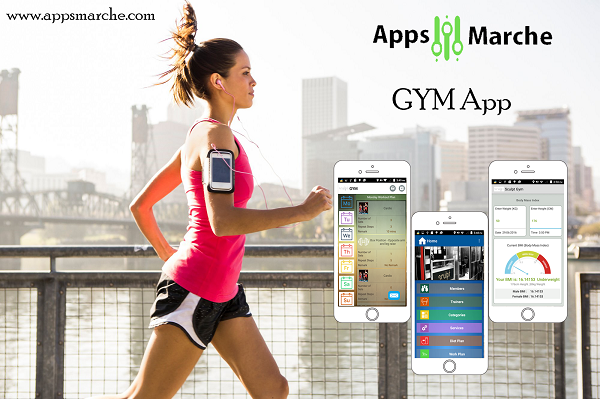 Following are the benefits customers can get after having a fitness mobile app:
Mobile Reservations
Clients can use your best fitness mobile app and can make reservations directly. They can view their diet plans and workout plans effortlessly, while on the go. This spares your staff some time on the telephone, and makes it straightforward for clients to get an arrangement helpfully, particularly on the off chance that they don't have a craving for bringing in. Read more about Tips to Engage Customers with Appsmarche Fitness Mobile App
Appointment Reminders
You can send notifications to your regular trainees through your portable application.
Customer Profiles
Your application will provide a feature that gives clients a chance to take photographs and can compare their weights that how much they succeeded. This is incredible for making a database of clients for testimonial purposes, promoting, or simply reference.
Special Offers
Push notifications (messages that users get notified about on their devices home screen) allow you to drive activity on special promotions, deals, events, and offers.
Product Sales
You can also sell your products like protein shake, vitamin tablets etc. through your mobile app.
Appsmarche fitness mobile app has a mantra of "benefits are many and the costs are few ". On the off chance that you move now, before contenders do, it can even now be a particular preferred standpoint. Read more about Yoga Mobile App for Yoga Center
Features Include:
Daily Work out Reminders
Log Your Workout in a fast simple stride
Track Your Progress with photographs
Get a Customized Workout and Diet Plan as per your weight Goal
Don't miss your workouts even on your vacation with the 'Get-away Mode'. Read more about Best gym mobile app
AppsMarche Fitness Business Mobile App helps gym owners to manage GYM and its members in better and efficient manner by providing them customized workout plans, diet plans, promotional activities and new offers.
AppsMarche Mobile App Builder enables business users to build mobile app for their respective business domain such as retail, catering, real estate, restaurant, doctor, gym.