How Real Estate Mobile App Can Increase Sales
22-07-2016
Appsmarche real estate mobile app provides an easy and efficient way for individual real estate dealer to display its property portfolio on Smartphone at anytime and anywhere by just a single click. We all know that mobile is no longer just for making calls and messages but it becomes as a medium of online marketing that empowers you to build your business and helps you to get connected with your customer as 24*7 in a week. The best app builder creates an android app which empowers and permits an individual property dealer to load all the information regarding his projects like the finished project, ongoing project and upcoming projects with a floor map. Online marche real estate mobile app is operated by the help of analytical real estate dashboard which is a web application from which a property dealer can update property information and runs his real estate business from a single web application. Read more about Real Estate business mobile App By Appsmarche
Online marche real estate agent mobile app provides you a facility of to show your property information on android mobile device at anytime from anywhere to the customers. The online marche application provide a best real estate business solution to you because it provides a light weight app with an effective user interface and customer can view the details of properties on mobile app of real estate by the help of sorting features. So when customers run the real estate application then they get feelings of virtual market. You can manage various type properties on to your web application to facilitate the customer according to their need. Read more about Make Customers Happy with Restaurant Mobile App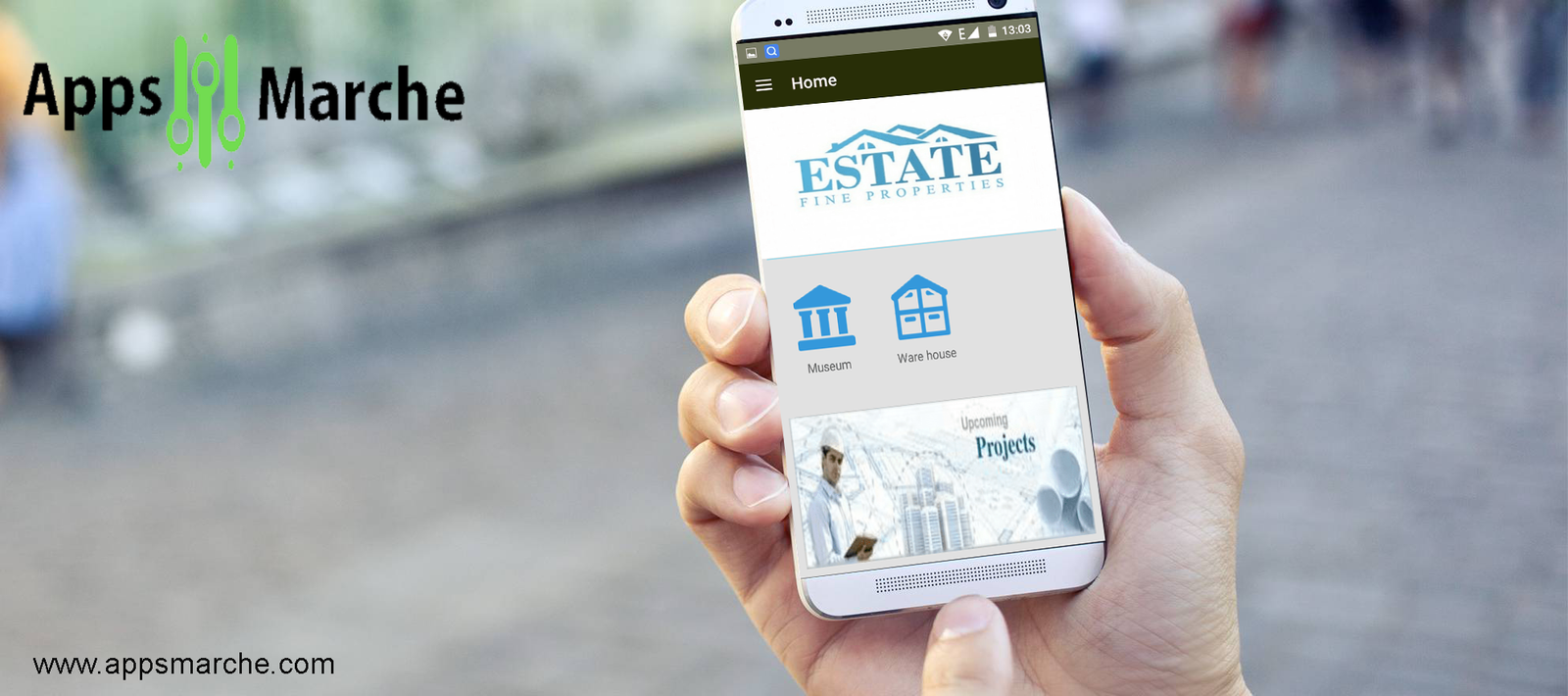 Real estate mobile apps that are provided by appsmarche application can help you to increase your business by several ways as:
Customization of services : A real estate admin can list their multiple services by using the services of the best app builder platform and the app builders helps you to find a fully integrated business solution. The best app builders of appsmarche provide you a enhanced multiple listing search services and allow the customer to get an email service as whenever a new properties get listed. Read more about Real Estate Mobile App Boost Your Property Business
Property and document management : It reduce the conventional method of paper centric work and manage the properties and document in a more effective way by providing a facility for storage onto the cloud that provides a flexibility of accessing the document at anytime from anywhere.
Customer relationship management: Appsmarche helps you to manage your existing customer and helps you to manage your sales. An appsmarche is a platform that designs an application to improve customer relationship by providing them the flexibility of viewing property according to their own choice.
Custom web designing: The customize mobile app builder is a platform that provides you a fully customized web based application according to you and your customers need. If a realer estate dealer doesn't have a big budget then the Best app builder also provides a readymade banners and templates which help you to get an application as soon as possible.
Focus on productivity and security: An application is totally focused on your business productivity because there is no broker or third party is available. All the promotional offers are managed by you with an analytical dashboard of real estate that makes changes and inform about the promotional offers at an instant to your customer by mobile application of real estate. This feature of Mobile App Builder provides more reliability to your customer in comparison to other.
Real Estate Mobile App provides an easy way for a real estate merchant to manage its property portfolio on smartphone which can be accessed anytime and anywhere in just one click.
AppsMarche Mobile App Builder enables business users to build mobile app for their respective business domain such as retail, catering, real estate, restaurant, doctor, gym.