Real Estate Business Mobile App by Appsmarche
08-11-2016
The AppsMarche Real Estate Mobile App is a product of AppsMarche which is integrated with numerous features and functionality which make it unique from other real estate apps. It is designed to full fill all your requirements which required in your business and provides you a best business solution for your own business. It is categorized in two parts one is Real Estate app for admin and another is Real Estate App for users. Read more about Smart Investment via Restaurant Management App
The AppsMarche Real Estate Mobile App provides the easiest way to property dealer or app admin to display his property portfolio on the smartphone anywhere and anytime by just one click. One of the best thing of this real estate business mobile app is it is a fully customizable app for you so the admin can design it according to their choice and suitability. They can also add or remove the features and functionality in this as per their choice. Except from this several other features which are integrated with the AppsMarche Real Estate Mobile App are: Real time database, Media option and filtered database, large free space, dynamic database for users, Light weight app, Property market, etc.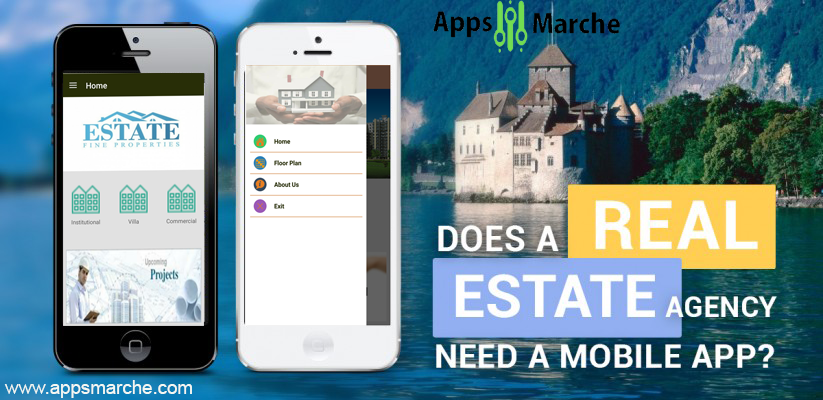 Features of AppsMarche Real Estate Mobile App for Admin:
Real Time Database: Once the admin feed the properties for sale it will be also available for the user app in the same time.
Media Option: Admin can link the video and images to the properties with an ease and it will impacts on the size of app.
Filtered Database: The admin can manage numerous properties in this app to facilitate the user.
Large Free space: The AppsMarche Real Estate Mobile App provides the large free space for your media, banner, images, audio, videos, etc. so that the app admin can post or add new products and promotional videos or banners without any hesitation. Read more about How Real Estate Mobile App Can Increase Sales
Features of AppsMarche Real Estate Mobile App for User:
Dynamic Database: This real estate app comes with the dynamic and fast database so the user will easily access it and get the new updates in a short time.
Lightweight App: The AppsMarche Real Estate Business Mobile App for user is a mobile friendly app which requires less resources and permission to run. It is a light weight app so it also covers minimum space of your mobile storage to properly install and run. Read more about Property Business Mobile App a Smart Business Solution
Property Market: The user can view the properties with sorting feature and all the types of properties given in specific and separate categories so it will give the feel of virtual bazar to the users.
Real Estate App Builder provides an easy way for a real estate merchant to manage its property portfolio on smartphone which can be accessed anytime and anywhere in just one click.
AppsMarche Mobile App Builder enables business users to build mobile app for their respective business domain such as retail, catering, real estate, restaurant, doctor, gym.