How Real Estate Mobile App Helps to Grow Business
17-08-2016
If you are one of them who are into real estate business and are looking for something that can tremendously make growth in your business, you are definitely at the right place. Appsmarche is such an amazing platform that helps its vendors to mark their web presence via app and make it a brand. Due to increasing demand of mobile apps, business person are moving to mobile apps as well. Read more about Doctor Mobile App for Clinic Management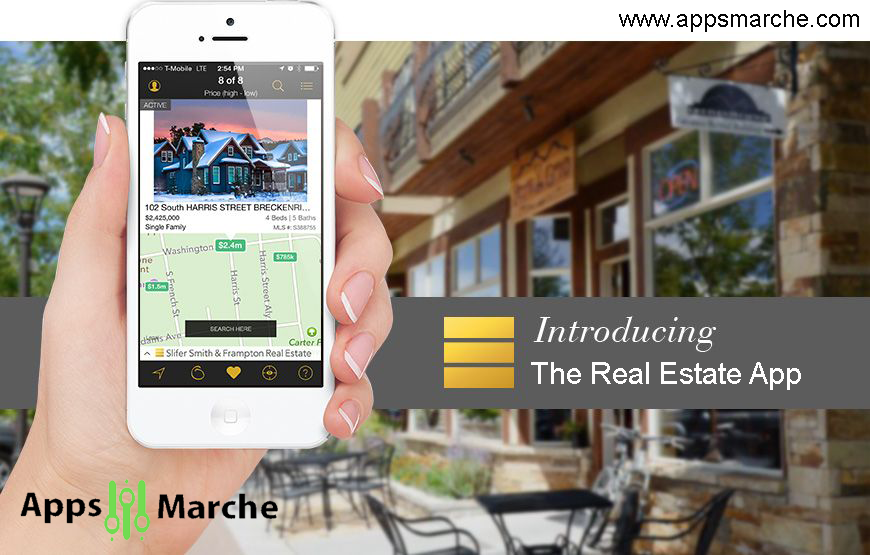 As you have already seen in the part one that how easy and convenient the Real estate mobile app is to handle their customers and clients, in this next section we have come up with some more features that utilize the more functioning of property mobile app stuffs.
Being a realtor in industry it becomes necessary to have a business app that provides an opportunity to know your customers well and let them acquainted with what you have for them. Previously we have talked about some of the features that are related to the admin or dashboard. Today we are stretching down to a level and exploring more …..
How Real Estate Mobile App Helps to Grow Business. The rest features incorporated in Appsmarche Real estate mobile apps are:
Through a mobile app, you can connect with your clients like never before, offering them the ability to stay in touch with you at all times via email and messaging functionality.
Property listings at their fingertips; price and other comparisons so your clients can shop via their phone, and more.
Listings are the main reason that Appsmarche online best app builder develop apps, but that isn't all. Hence we have provided the features of banners and promotions tab that can use for marketing as well.
We have two categories for properties that are for sell and rent and customers can choose either of them.
Floor Plan feature is something which really is an important aspect for property dealers and their clients as well because they are more interested to know the exact details of measurements of the chosen property. Read more about Fitness App Solution
Several images can be uploaded as per the subscription plan that gives client a real feel to take a tour to the property areas without being physically present over there.
Customers can also get a glance of our upcoming projects so in future they want to secure it in advance, we prevail such facilities as well.
Do not think twice and grab the benefits of Appsmarche Real estate mobile app and trust me you won't regret it.
Real Estate App Builder provides an easy way for a real estate merchant to manage its property portfolio on smartphone which can be accessed anytime and anywhere in just one click.
AppsMarche Mobile App Builder enables business users to build mobile app for their respective business domain such as retail, catering, real estate, restaurant, doctor, gym.