Grow Your Business with Best Property Mobile App
01-08-2016
Smart business management is essential to the success of any business. It is refers to your way of customer management, product management, advertisement of your product, investment management and many things. The first thing which needs to be followed by every business owner is the struggle with challenges that have already solved by your competitors who are running the same business in yours market. Read more about Retail Business Mobile App Solution for Retail Business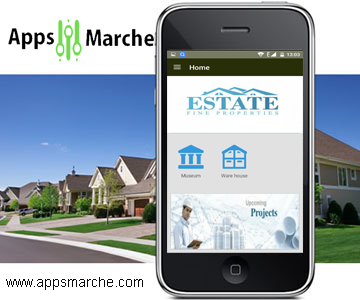 Today the real estate companies are increasingly adopting the web based solution to optimize the resources, simplify the operations, and increase the efficiency.
To address these needs of real estate business holders, the best mobile app creator "AppsMarche" mobile app builder offers you the best web based business solution with the unique and interactive features which full fill your all business needs. It provides a complete line of functionality specially designed for your unique business needs. The property mobile app is a fully customize android mobile application which provides you a good customer relationship management and helps to manage the current and prospective customers, tracking and managing the leads to turn prospects into sales. It is basically designed to improve the customers' intelligence and relationship. The best property mobile app helps your customers to check and view your product and its description at any where any time so that it's reduce the time of sale of your products. It is a simple, cost-effective and web based solution for your business. Read more about How Real Estate mobile App Helps to grow Business
How Grow Your Business with Best Property Mobile App, The key features of are:
Property management: It helps you to publish your property to the web easily with the help of simple mobile application. You have the options to publish your property immediately and once the property is sold or not available, you may delete it from your mobile app.
Unlimited photo attachment: It also offers the unlimited photo attachment of your property easily. You can easily upload the photo of your property through your web dashboard or mobile app.
These features of Best Property Mobile App attract the attention of customers to your business which gives you a fast business growth and also increase your customer reach.
So if you don't yet have the web presence and need to revamp your existing presence, the best mobile app creator provides a custom design of android mobile application with lesser time and smaller budget which helps you in smart business management and increases your business growth.
Real Estate mobile App provides an easy way for a real estate merchant to manage its property portfolio on smartphone which can be accessed anytime and anywhere in just one click.
AppsMarche Mobile App Builder enables business users to build mobile app for their respective business domain such as retail, catering, real estate, restaurant, doctor, gym.