Use Restaurant Business Mobile App to Increase Your Business
19-09-2016
Restaurants are the place where a customer pays money for foods, drinks and beverages, but today number of restaurants offer take-out and delivery services. The services of restaurants vary greatly as per area location and time availability. But the restaurant industry is a high risk business as more than 60% of restaurant business fails in its early starting age because they failed to keeping up their business with market trends such as due to customer reachability, availability, content management, advertisement and delivery of products and also lack of a medium of connectivity etc. Today most of the common issues which are raise in restaurant business are reachability of customer and availability of products and services because in this fastest moving age no one has single minute to wait for table and order. The customer wishes there should be medium by which they can able to order food conveniently from anywhere as from home, work, on road and their order reaches at their door or at the work place within minimum time. Read more about Best Restaurant Mobile App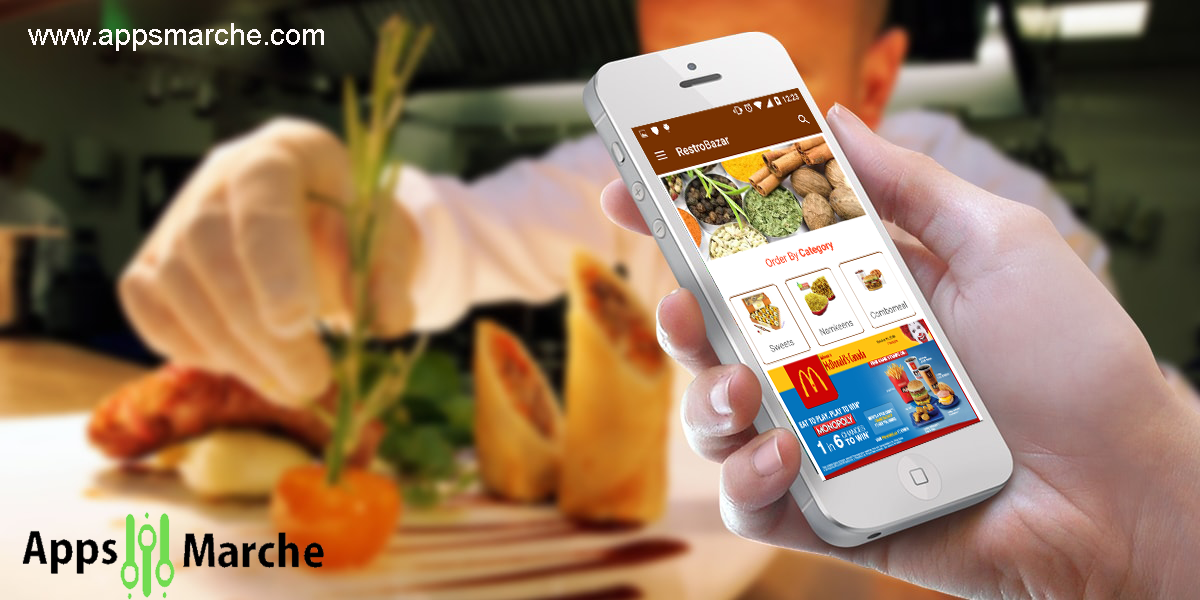 As keeping in mind this types of problem the best app builder of Appsmarche platform provided you a fully customized mobile application as well as a mobile managing application. The Apps Marche customizes this mobile application as per the requirements of your business as it provide better menu management and your customer can get their order as per their taste at their delivery places.
Appsmarche Restaurant business mobile app for Admin facilitates business owners to handle their mobile applications from which they can serve their services like online delivery, take order online, food for delivery, online reservation at online platform and able to move their business at online bazar to grab or retain their loyal customer at anytime from anywhere. The restaurant business mobile app allows your customer to create their profile so that and facilitates them to quick access into the restaurant, there is no matter where they are. The appsmarche platform give you an app with full enhanced features like your customer can view promotional offers, check discounts, can view the whole menu using mobile application and they can choose different mode of payments. There are several advantages which allow your customer to Use Restaurant Business Mobile App to Increase Your Business
Dynamic Database: When users or customer order online, admin will be notified in quick span of times so that they can fulfill their customer order on time.

Delivery Management: Admin can manage status of the order delivery thus enhance customer service so the customer can view their order's status.

Easy Listing: The admin can manage food products and can add new products in a very easy manner to attract customers.

Rich Interface: It will make customer to choice food in simple manner from a big list and having high usability

Promotions: The user can see the latest promotions in notifications.

Real Time Database: The customer can get the quick responses of its food related or delivery related query and status with restaurant mobile app.

Delivery boy: To fulfill delivery of food products a restaurant can use delivery boys as by maintaining their identity.

Delivery at customer address: The user can get their order at their home or at other specified address.
Restaurant App Builder can be used to offer services such as online booking, order management, delivery, take away to their customers.
AppsMarche Mobile App Builder enables business users to build mobile app for their respective business domain such as retail, catering, real estate, restaurant, doctor, gym.